Student Recap: 2018 Sustainability Career Boot Camp
—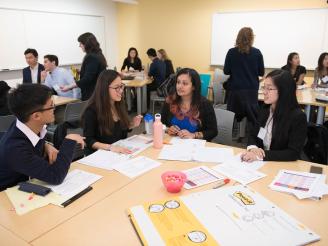 On March 22-23rd, the NYU Stern Center for Sustainable Business kicked off its inaugural Sustainability Career Boot Camp, featuring a case competition sponsored by PwC.
The two-day intensive was led by Angie de Soto, who had previously hosted a two-week version at Virginia Tech where she currently works as the director of the Sustainability institute.  The first half of the program consisted of a presentation explaining the benefits of sustainability in business and how for-profit businesses can thrive in a competitive setting while still creating shared value. After the slideshow, students worked in groups to create sustainable solutions for certain industries and present them to the class in preparation for the next day's activities.  
On March 23rd, the Boot Camp hosted a panel of professionals in business whose careers are related to sustainability that was moderated by Sophie Rifkin, Senior Associate Director of Stern's Center for Sustainable Business. The panelists ranged from those who were directly involved in sustainability like Kate Marshall, an associate at Business for Social Responsibility, or were more tangentially involved like Devin Taylor, Vice President and Investment Strategist with Bank of America's Global Wealth & Investment Management division.             
After the panel, students were allowed an hour to prepare presentations on sustainable solutions that were then shown to actual employees of PWC .  
The purpose of the boot camp was to teach students about the breadth of opportunities to facilitate sustainability in business and hopefully influence a new generation of business leaders. Before the Boot Camp, I felt as though sustainable approaches to business hindered profits and were only used in order to promote the company's image or out of moral responsibility.  While the adoption of sustainable business models does achieve those aspects, I learned that there are also quantifiable business benefits as well.  The boot camp was encouraging as I learned about the future opportunities for more sustainable business within social ventures and previously existing for-profit companies.  
- Paige Yoo, NYU Stern Undergraduate Class of 2021