CSB Announces Inaugural EmpowHER Cohort: 17 Women Dedicated to Sustainable Finance
—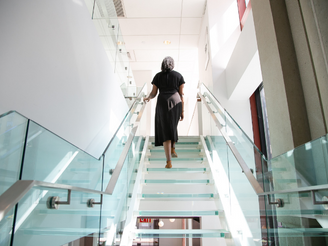 The NYU Stern Center for Sustainable Business (CSB) is pleased to announce the members of our inaugural cohort of EmpowHER: Career Development Program for Women in Sustainable Finance, Supported by Visa Foundation. The program was designed to help a diverse group of values-driven professionals build their financial expertise and networks, creating the foundation for gainful career opportunities in sustainable investing.

A career in sustainable finance provides a unique opportunity to drive investment into companies that are solving pressing environmental and social challenges. ESG-related investments currently account for 1 in every $4 invested in the US, totaling more than $17 trillion invested in sustainable assets in 2020 alone. This represents a 42% increase from 2018 and consistent year over year growth for more than a decade. There is a corresponding explosion of demand for sustainability-related financial expertise to manage these assets. However, there is not enough qualified human capital to keep up with the financial capital being funneled into ESG investments. An analysis of LinkedIn job posts by the CFA Institute found 6% of investment professional job posts mentioned sustainability-related skills, yet less than 1% of profiles disclose such experience. 

This group of 17 women who started the NYU Stern MBA program in Fall 2022 is engaging with the sustainable finance community and alumni to refine their expertise, gaining hands-on learning experiences, participating in intensive training and networking sessions, and accessing mentorships with impressive women in the industry.

Congratulations to our inaugural cohort!
Niharika Agrawal
Intended Specializations: Corporate Finance, FinTech, Sustainable Business and Innovation

 

Jiani Lu
Intended Specializations: Finance, FinTech, Sustainable Business and Innovation

Laura de Ávila Degasperi
Intended Specializations: Entrepreneurship and Innovation, Finance, Sustainable Business and Innovation

 

Sangitha Mohan
Intended Specializations: Finance, Strategy, Sustainable Business and Innovation

 

Bianca Isabel Dy
Intended Specializations: Corporate Finance, Finance, Sustainable Business and Innovation

 

Aindrilla Mukherjee
Intended Specializations: Finance, Global Business, Sustainable Business and Innovation

 

Emily Farley Chang
Intended Specializations: Finance, Financial Instruments and Markets, Sustainable Business and Innovation

 

Claire Olson
Intended Specializations: Finance, Strategy, Sustainable Business and Innovation

Danit Fleischman
Intended Specializations: Global Business, Leadership and Change Management, Sustainable Business and Innovation

 

Tina Wang
Intended Specialization: Marketing, Strategy, Sustainable Business and Innovation

Deshani Gunathilake
Intended Specializations: Sustainable Business and Innovation

 

Jessica Weiss
Intended Specializations: Finance, Sustainable Business and Innovation

Mei Han (Maya) Han
Intended Specializations: Entrepreneurship and Innovation, Finance, Sustainable Business and Innovation

 

Junyun (Tina) Yang
Financial Instruments and Markets, Strategy, Sustainable Business and Innovation

Yifei Hong
Intended Specializations: Finance, Real Estate, Sustainable Business and Innovation

 

Huaimeng Zhang
Intended Specializations: Finance, Sustainable Business and Innovation

Doris Lu
Intended Specializations: Entrepreneurship and Innovation, Marketing, Sustainable Business and Innovation