Coffee Chat with Acre Impact Capital - Hussein Sefian, Founding Partner, and Faisal Khan, Managing Partner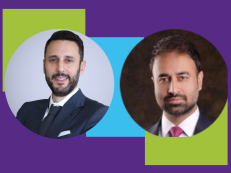 Open only to Stern MBA students
RSVP here.
Join the NYU Stern Center for Sustainable Business (CSB) for a career-oriented coffee chat.
Hussein Sefian
(MBA '04) is the Founding Partner of Acre Impact Capital and 
Faisal Khan
 (MBA '07) is a Managing Partner of Acre Impact Capital, both support for strategy, business development, growth and partnerships.
Prior to founding Acre,
Hussein Sefian
was the Global Head of Strategy at BNP Paribas CIB, where he defined the organisation's sustainable finance strategy. By the time he left BNP Paribas in 2018, the bank was the largest green bond runner globally and was recognised by Euromoney as the World's Best Bank for Sustainable Finance.  As part of his role at BNP Paribas, Hussein was responsible for managing strategic partnerships and a portfolio of Strategic Investments worth $350mn, with assets which included market infrastructure companies, minority stakes in other financial institutions, funds and FinTech companies.
Prior to his career in investment banking, Hussein worked for more than 10 years in management consulting with Booz Allen, advising clients in financial services, public sector and telecommunications on their most complex strategic issues. Hussein is passionate about the promise of finance in addressing the world's most pressing social and environmental problems.
Faisal Khan
(MBA '07) has over a decade of financing experience in Emerging Markets, with a particular focus on sovereign and corporate entities across Central Eastern Europe, Middle East and Africa. Faisal has helped clients raise a cumulative $200bn worth of capital while at Deutsche Bank, Investec Bank and BNP Paribas.​
Faisal has advised several Emerging / Frontier Markets governments on raising international debt capital including Angola, Ethiopia, Gabon, Ghana, Ivory Coast, Nigeria, Zambia and South Africa.  Through his extensive network of contacts, Faisal has developed a deep understanding of regional investment and fundraising challenges.  He has accumulated significant experience in structuring and pricing deals in the region, while managing risks through detailed sovereign due diligence.
Most recently Faisal has developed deep expertise in Sustainable Debt Capital Markets at BNP Paribas, where he supported both sovereign and corporate clients structure and execute sustainable bonds and loans. Faisal is an expert at the development of sustainability frameworks in line with the Green / Social / Sustainable Bonds/Loans principles.
RSVP here.