Innovating Investments for Climate Resilience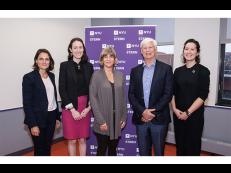 On September 25, the NYU Stern Center for Sustainable Business and SustainAbility co-hosted a panel discussion entitled, "Innovating Investments for Climate Resilience." The discussion explored new ways of evaluating climate risk and innovative approaches to incorporating climate risk and resilience into investment products and decision-making.
The panel, which was moderated by Professor Tensie Whelan, director of Stern's Center for Sustainable Business, featured commentary from Nobel Laureate Professor Robert Engle, director of Stern's Volatility Institute; Ann van Riel, head of Sustainable Finance, Americas, ING; and Courtney Asher Thompson, manager of Global Sustainable Finance at Morgan Stanley.
"Government policy and execution has been sorely lacking in this area," noted Professor Whelan. "We have seen the private sector step up to fill that gap."
To read more, click
here
.