Investing for Impact: The View from Leading Family Offices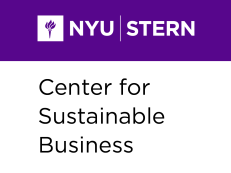 Family offices are the true trailblazers when it comes to impact investing, one of the fastest-growing areas of the investment business aiming to deploy capital to address global societal challenges. The NYU Stern Center for Sustainable Business together with Helped Hope has gathered a panel of family offices to share their wisdom, experience, and insights with us. Join us at the NYU Stern School of Business on Thursday, November 21, 2019 to hear their definition of impact investing, why they do it, and what they see as their financial and social return. We will discuss their investments across asset classes, geographies, and vehicles and cover innovative techniques such as program-related investments (PRIs), mission-related investments (MRIs), and blended rate investments.

The conversation will be moderated by Tensie Whelan, Clinical Professor of Business and Society and Director, NYU Stern Center for Sustainable Business and opening remarks will be made by Alexander Golding, CEO, Helped Hope.

The event is co-sponsored by Stern MBA student clubs: Private Equity/Venture Capital (PE/VC), Social Impact & Sustainability Association (SISA), and Stern Investment Management and Research (SIMR).

Light refreshments will be provided.

Panelists
Elise Bernal, Principal, Bernal Family
Adi Divgi, Family Member and CIO, EA Global
Richard Lipkin, Managing Director, Easton Capital, and Co-Founder, Cavendish Impact Foundation
John Parker, Family Member and Vice President, Charles H. Hood Foundation, and Founder, Springhood Ventures

Moderator
Tensie Whelan, Clinical Professor of Business and Society and Director, NYU Stern Center for Sustainable Business

Opening Remarks
Alexander Golding, CEO, Helped Hope

Speaker Bios

Elise Bernal, Principal, Bernal Family, is a long-time advocate of impact initiatives within health care and environmental sustainability. Elise currently invests in early-stage startups and funds on behalf of her own family, as well as in collaboration with foundations and other impact-minded family offices. Elise has held executive-level positions at several plant-based and eco-conscious businesses, as well as non-profit organizations.  She led acquisition strategy for one of the largest privately-held HMOs in the US, and has worked in France, Germany, Switzerland, and the UK. Elise graduated with honors from Wellesley College and holds an MBA in Health Care Management from the University of Pennsylvania's Wharton School of Business.

Adi Divgi has been CIO of EA Global, his family investment vehicle, since its 2005 inception. He has also been Head of Alternative Investments at Catalina, a $4bn AUM reinsurer, since April 2014. Previously, Mr. Divgi oversaw the Opportunistic Fixed Income investment program at the NYC Bureau of Asset Management from March 2011 to April 2014, executing $3.6 billion in capital commitments with approval from the 4 participating Boards of Trustees. Mr. Divgi is a graduate of the Huntsman Program, with a BA in International Studies (Spanish minor) from the University of Pennsylvania and a BS in Economics and MBA in Finance from Wharton.

Alexander Golding was named "Who's Who in Impact Investing" by the Rocky Mountain Business Journal in 2018. As the founding CEO of Helped Hope and the President of the Lawrence Golding Foundation, he has made it his mission to educate the world about responsible investing. He recently worked on two deals, one into a seed stage food tech company and one into an early childhood education tech company. In early 2017, Alexander launched the Florida Impact Investing Initiative. Since then, over forty billion investor dollars ($40bn) have been present at his events to learn about impact opportunities. His impact investing network consists of approximately 5,200 members, approximately 300 of whom are investors. He sends his due diligence notes on potential investees to a private subset of these investors. Alexander received his Bachelor's of Science in Finance from the Leonard N. Stern School of Business at New York University and taught "Topics in Social Entrepreneurship" at Florida Atlantic University in the fall of 2017. He is currently a mentor at Lynn University's Social Impact Lab, done in conjunction with Watson Institute. 

Richard Lipkin is a Managing Director of Easton Capital and the Co-Founder and Director of the Cavendish Impact Foundation, an evergreen philanthropic fund dedicated to the eradicated of rare diseases. Previously, he was a partner of Commerce Health Ventures, a life sciences healthcare fund, and Laird & Co., a private merchant bank; a biotech analyst consultant for a Goldman Sachs hedge fund and for DARPA; Executive Director of the Strang Cancer Prevention Center; and a prolific author, awarded the American Chemical Society's Grady-Stack Award for research analysis. He studied theoretical neuroscience at Columbia University, and serves on many boards, councils, and committees for the Weizmann Institute of Science, Rockefeller and Columbia Universities, MBL, NYAS, and Montefiore Medical Center. He is an honors graduate of Princeton University, has an MBA from Columbia, and is a Senior Staff Associate in Columbia's Dept. of Neuroscience.

John Parker founded Springhood Ventures to address the funding gap in child health innovation by providing critical early investment and support to companies developing important healthcare solutions for children. Springhood has evolved from the program-related investment initiative he established in 2015 and continues to manage on behalf of his family's philanthropic vehicle, the Charles H. Hood Foundation, a Boston-based private foundation that supports pediatric research, where he also serves as a trustee. John is an observer on the boards of Prapela, Inc., Aldatu Biosciences, Breegi Scientific, and Noninvasix, Inc., and he serves as an advisor to the BioPontis Alliance for Rare Diseases, the DRIVEN Accelerator Hub, the International Society of Pediatric Innovation, and a number of pre-commercial pediatric-focused startups. He is also a frequent speaker on pediatric innovation, investment in child health solutions, and mission investing. Previously, John spent 25 years in the alternative investment industry, including senior roles in venture capital, private equity, and hedge funds. Early in his career he worked in international merchant banking. Although currently living in the Boston area with his wife and their three children, John spent portions of his career in New York, Tokyo and Sydney and has done business in over 20 countries on 6 continents. John has a BA from Dartmouth College and an MBA from Dartmouth's Tuck School of Business. 

Tensie Whelan, Clinical Professor for Business and Society, is the Director of NYU Stern School of Business's Center for Sustainable Business, where she is bringing her 25 years of experience working on local, national and international environmental and sustainability issues to engage businesses in proactive and innovative mainstreaming of sustainability. As President of the Rainforest Alliance, she built the organization from a $4.5 million to $50 million budget, transforming the engagement of business with sustainability, recruiting 5,000 companies in more than 60 countries to work with Rainforest Alliance. She transformed the Rainforest Alliance frog into an internationally recognized and credible brand. Her previous work included serving as Executive Director of the New York League of Conservation Voters, Vice President of the National Audubon Society, Managing Editor of Ambio, a journal of the Swedish Academy of Sciences, and a journalist in Latin America. Tensie has been recognized by Ethisphere as one of the 100 Most Influential People in Business Ethics, was the Citi Fellow in Leadership and Ethics at NYU Stern in 2015 and has served on numerous nonprofit boards and corporate advisory boards such as the Unilever Sustainable Sourcing Advisory Board and the Nespresso Innovation Fund Advisory Board. She was most recently appointed as a member of the Board of Directors for Aston Martin and GlobeScan, to the newly created Global Advisory Council for Odebrecht and as an Advisor to the Future Economy Project for Harvard Business Review. Tensie holds a B.A. from New York University, an M.A from American University, and is a graduate of the Harvard Business School Owner President Management (OPM) Program.