The State of Sustainability in CPG: Is Its Performance Sustainable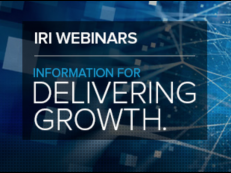 This event has passed. To watch the event recording,
click here
. To learn more about the study,
click here
.
---
Sustainability has become a chic buzzword in innovation and marketing over the past few years but is still an often-overlooked opportunity. The creation of sustainable products by CPG manufacturers has increased as consumers' focus more on ingredients in food and household/personal care products, as well as the environment, and sustainability has been an important driver of CPG growth. However, companies need a deeper understanding of the market, including during the COVID-19 pandemic, so that they can more easily respond to evolving consumer demands, such as changing generational expectations.  
Last year, NYU Stern's Center for Sustainable Business (CSB) began partnering with IRI to release a groundbreaking study that examined products across 36 categories, representing approximately 40% of total CPG sales (excluding tobacco and alcohol), to better understand how sustainability is impacting CPG performance.  
This webinar will feature the latest research findings from CSB and IRI, including trends, purchase patterns, consumer sentiment and category deep dives. Attendees will better understand the current consumer demand for sustainability and learn:
The latest share and growth figures for sustainable products
The role of price and sustainable purchases
Who the sustainable purchaser is right now
The most sustainable areas across the U.S.
How sustainable products are faring during COVID-19
Panelists
Randi Kronthal-Sacco
, Senior Scholar of Marketing and Corporate Outreach, NYU Stern CSB
Larry Levin
, Executive Vice President, Market and Shopper Intelligence, IRI
Click here to register