Decarbonizing Finance to Combat Climate Change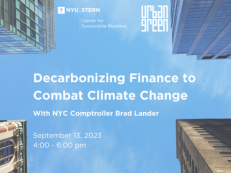 Join NYU Stern Center for Sustainable Business and Urban Green Council on September 13th for a discussion with New York City Comptroller Brad Lander on the net zero plan for New York City and how finance can be a lever for decarbonization.
Following their discussion, a panel will zoom in to address the city's largest source of carbon emissions, the built environment, which accounts for 70% of emissions. While new legislation requires owners of the largest buildings to decarbonize or face penalties, the banks and lenders that hold mortgages on those buildings have a unique opportunity to accelerate climate-friendly finance solutions, enhance their own portfolios, reduce their Scope 3 carbon emissions, and help NYC reach its decarbonization goals. 
Our very own Marianna Koval, Director of Invest NYC SDG, will demonstrate a new data tool that consolidates mortgage lender information and carbon emissions data to bring transparency to the mortgage market and show the Scope 3 emissions in the portfolios of major NYC mortgage lenders. 
Speakers include: 
Brad Lander, New York City Comptroller 
Emily Kreps, Global Head of ESG and Sustainable Finance, Investment Bank Origination & Advisory, Deutsche Bank
John Mandyck, CEO, Urban Green Council 
Marianna Koval, Director, Invest NYC SDG Initiative, NYU Stern Center for Sustainable Business 
Sadie McKeown, President, The Community Preservation Corporation 
Sam Chandan, PhD, Director, NYU Stern Chao-Hon Chen Institute for Global Real Estate Finance
Virtual and in-person attendance options are available. You will receive a link to join the event once you have completed the registration process. All proceeds go to support NYU Stern CSB, a self funded research center.