Sustainability Recruitment Pathways at Stern - Open House for MBAs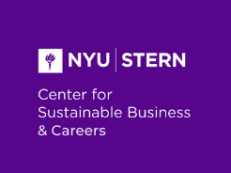 RSVP here.
Join the NYU Stern's Center for Sustainable Business and Careers Team to learn more about navigating careers in sustainability and social impact. During this session, you'll:
Meet our teams: Eliza Heeks and Alyssa DeFalco from the Center for Sustainable Business and Beth Briggs, Allyson Dhindsa, and Katie Malen-Gamley from the Careers Team
Learn how to leverage resources at Stern to explore career opportunities
Hear more about sustainability-focused Stern Signature Projects, Sustainability and Human Rights Summer Fellowship, and more
Get a glimpse into current students and alumni's career journeys in sustainability
Ask your questions about jobs and recruiting in sustainability
RSVP here.