NYU's 13th Annual Social Innovation Symposium: Better Together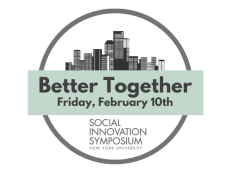 RSVP here
.
The NYU Stern Center for Sustainable Business is proud to support Stern's Social Impact and Sustainability Association (SISA) and fellow NYU schools in the 13th annual Symposium on February 10, 2023. This Symposium is planned in collaboration between NYU's Stern School of Business, the School of Law, and the Wagner Graduate School of Public Service, attracting hundreds of students, academics, and professionals working across the public, private and social sectors.   
This year's conference theme is "Better Together" and will focus on how no single industry or function can make lasting social or environmental change on their own. In order to drive the level of innovation and transformation required to address our world's most pressing issues, we have to break down silos and collaborate across our organizations, industries and sectors. The 2023 Social Innovation Symposium will bring together thought leaders from the public, private and social sectors to discuss how partnering across traditional departmental and sector divides can lead to more efficient and impactful transformations.
Panel Topics Include:
- Agri-Food-Tech: How do you innovate the world's oldest system?
- Supply Chains in the 21st Century: the journey towards sustainability
- Portfolios with Purpose: Sustainable Investing with ESG Data
- Preventing Bias in Product: Building Great Teams that Build Responsible AI
If you have any questions, please contact:
- Conference Committee: Ale Nunez (
alessandranunez@stern.nyu.edu
); Rachel Craig (
rfc4339@stern.nyu.edu
) ; Cassidy Lewis (
cassidy.lewis@stern.nyu.edu
)
- Co-Presidents of SISA: London Clark (
clc528@stern.nyu.edu
) ; Karen Chu (
karen.chu@stern.nyu.edu
)
RSVP here.