NYU Stern's Center for Sustainable Business Receives $1 Million from Citi Foundation
—
Funding to Support Center's Vision for "A Better World through Better Business"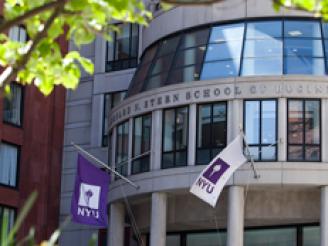 New York, February 18, 2016 — Today, the new
Center for Sustainable Business
at New York University's Stern School of Business officially launches with $1 million in funding from the Citi Foundation to put its vision, a better world through better business, into practice.
For more than a decade, Stern and the Citi Foundation have collaborated on programming to educate students about ways for the private and public sectors to work together to address the world's most intractable problems and stimulate sustainable economic growth.  With this new funding and the establishment of a dedicated research center under the leadership of founding Director
Tensie Whelan
, the School continues to invest in developing future leaders who can excel at balancing profit with principle.
"We are grateful to the Citi Foundation for investing in our center's vision to equip students with practical knowledge that will empower them to use sustainable business practices to innovate, reduce risk, and create competitive advantages for their future employers while protecting the planet," said Whelan, a leading environmentalist and the former president of Rainforest Alliance.  "With global climate issues, water scarcity and the increasing rate of urbanization, business leaders can no longer afford to put sustainability on the periphery.  Through new corporate case studies, coursework, research and an ongoing dialogue with the companies that are leading by example, we aim to instill a different mindset in our students."
"The widespread approval of the Paris Climate Agreement has raised the stakes even further to accelerate global environmental and social progress," said Brandee McHale, president of the Citi Foundation. "We know the private sector has a critical role in helping to execute these landmark efforts and deploy solutions to the world's most pressing sustainable development needs. The Citi Foundation is proud to be a founding funder of the center to help prepare the business leaders of today and tomorrow with the tools to understand and address these complex environmental and social challenges."
To help facilitate meaningful connections between academia and the corporate world, Whelan has also created an advisory board for the center.  The
board
includes Raphael Bemporad, founding partner of BBMG; David Chubak, global head of productivity at Citi; Guillaume Le Cunff, president of Nespresso USA; and John D. Williams, president and chief executive officer of Domtar.
During this launch period, Whelan will introduce Stern students to the Center for Sustainable Business with a TED-style talk, "Ten Minutes to Save the World," at the Social Innovation Symposium, hosted by the Social Enterprise Association MBA club; a Fireside Chat with CEO Guillaume Le Cunff of Nespresso USA during Social Impact Week; and a Jobs Fair, in partnership with Collectively and VICE media, in which students and prospective employers engage around the future of work and network for jobs that embrace innovation and purpose.
About New York University Stern School of Business
New York University Stern School of Business, located in the heart of Greenwich Village, is one of the nation's premier management education schools and research centers. NYU Stern offers a broad portfolio of academic programs at the graduate and undergraduate levels, all of them informed and enriched by the dynamism, energy and deep resources of one of the world's business capitals.  Follow NYU Stern on Twitter: @NYUStern.