About the Fall 2019 Challenge
Created under the 2017 Tax Cuts and Jobs Act, the
Opportunity Zone program
was designed to encourage long-term investments in low-income communities by providing unprecedented tax incentives for investors. By unlocking private capital to create sustainable community growth, Opportunity Zone creators intend to boost economic development, entrepreneurship, education and workforce training, and safe neighborhoods in historically distressed areas across the United States. Without specific requirements around sustainable development, the program raises concerns from community advocates that most capital will go towards cities and projects that are already experiencing gentrification, further displacing and distressing low-income communities.
In the NYU Stern Opportunity Zone Challenge that took place in Fall 2019, teams of graduate students competed for a $15,000 total prize by proposing business and real estate development plans optimized for Opportunity Zone investment for a New Bedford-based seafood company.
The program attracted overwhelming student interest, and Stern teams were able to recruit graduate students from across NYU, which prompted participation from students at the Schack Institute of Real Estate and Wagner School of Public Service and resulted in diverse final deliverables. CSB collaborated with a network of expert project advisors and judges representing Hartz Capital, Novogradac, CatchInvest, and United Fund Advisors. Through CSB-organized sessions with experts and an overnight site visit coupled with their own research, students developed knowledge and skills around tax-advantaged investing, place-based economic policy, real estate, sustainable development, and deal structures. Teams were judged on their proposals' alignment with Opportunity Zone program requirements, ability to attract investment, and optimization of positive social, economic, and environmental impact.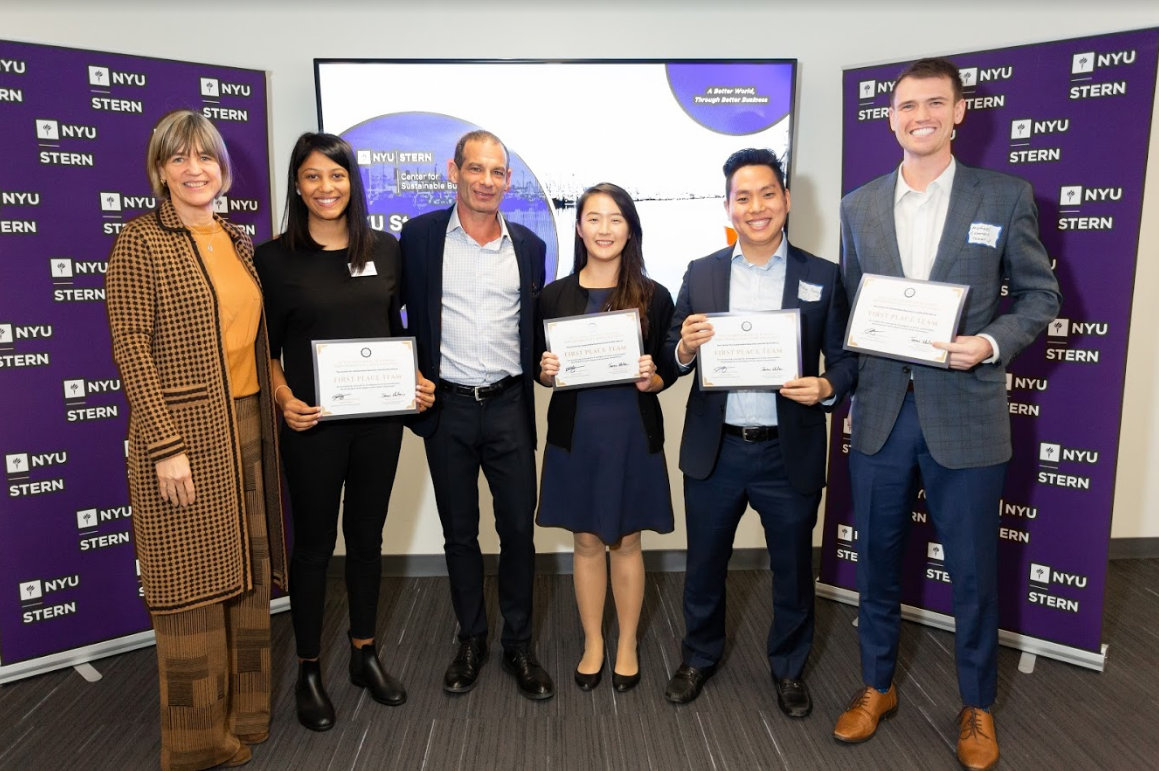 Challenge Sponsor Eddie Stern and CSB Director Tensie Whelan with the First Place winning team.
Winning Teams
First Place - $10,000
Michael Connors (MBA '21), Kidae Hong (MBA '21), Meghna Kamal (MBA '21), Claire Park (MBA '21)
Second Place - $3,500
Ignacio Aravena (MUP '20), Amy Gu (MBA '20), Edward Hill (MBA '20), Alex Suh (MSRED '20)
Third Place - $1,500
Richard Guido (MSRED '21), Sumeet Kumar (MSRE '21), Deeksha Soni (MBA '20), Jose Sosa (MBA '20)